Is Personal Training right for me?
Top 5 Reasons to Find a Personal Trainer
1. Weight Loss or Muscle Gain
Whether your goals are to lose body fat or increase lean body mass (perhaps you'd like to do both!), working one-on-one with a Personal Trainer is your best bet. Each session will be focused on your goals and will move at your speed. Your trainer will program the right exercises to help you succeed and you'll do so much faster than in a group setting. Nutrition will also play a large role in both of these goals, so consider starting a relationship with a Nutrition Coach.
2. Performance Goals
If you are enjoying a group or self-led environment, then keep it up! Exercise that makes us happy and works with our lifestyle will help with adherence. But, if you are dying to get your first pull up, you've decided to compete in a lifting competition, or you want to hone your skills in a specific area, there's no better route than Personal Training. We offer sessions in 15-minute increments, allowing you to bring this one-on-one time into your weekly or monthly routine with ease!
3. Rehabilitation or The Comeback
Injuries and illness can push the pause button on our fitness. It can be daunting to consider returning to the gym; however, if you're working with a trained fitness professional, it doesn't have to be! A good Personal Trainer should know how to bring you back from any injury and support you as you regain your fitness piece by piece. This is also true for those who have taken some time away from fitness for any other reason – travel, babies, work, family, netflix, you name it! The comeback is sometimes intimidating, but knowing your Trainer has your back is a very comforting feeling. 
4. Sport Specific Training
Maybe you're tired of warming the bench, or maybe second place is becoming an unwelcome pattern. Whatever it is, working with a Personal Trainer can be the key to pushing past that plateau and excelling in your sport. Personal Training in a General Physical Preparedness program (GPP) can also be great for injury prevention in athletes, varying the stimulus on the body and training all aspects of your fitness. 
5. Individual Attention
Some people are just not group fitness people. We don't judge. You can enjoy all the benefits of CrossFit training without being in a group class. This allows your trainer to zero in on what your specific goals are as well as address any limitations you may have each and every time you meet. You won't have to wonder whether you are doing it right or feel too nervous to ask a question. Working with a Personal Trainer will also allow you to come to the gym at a time that works for you and at a frequency that suits your lifestyle and goals. 
Free 30-minute Consult
If you're interested in what Personal Training looks like at CrossFit Qualicum Beach and want more information to decide if it's the right fit for you, contact us to book a consult. We will answer all your questions, give you a tour of our space and conduct a brief movement assessment. What have you got to lose?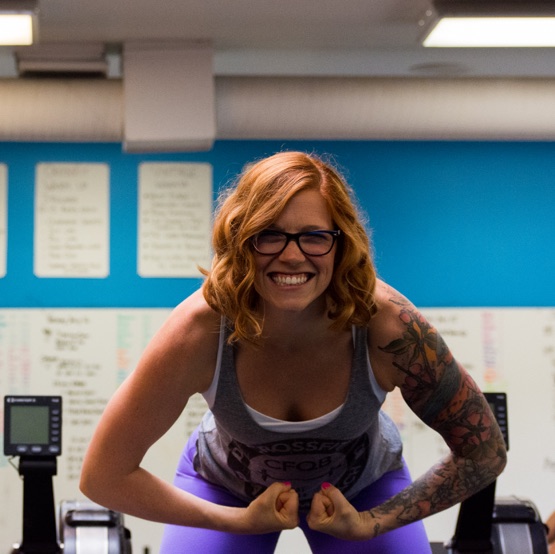 Maggie Bugg is Co-owner of CrossFit Qualicum Beach on Canada's rugged and beautiful West Coast and is a massive Star Wars fan. With her Undergraduate Degree in Education, Maggie oversees the Kindergarten to Grade 12 programs at her affiliate and is the Head Trainer for the Teens Program. She is also the General Manager of the gym, focusing on cultivating a welcoming, safe, and results-driven environment for both Staff and Members. When not at the gym, you can find her nose in a book or her toes in ballet slippers.