Welcome to Community Fitness QB
You may be aware of the recent changes in upper management at CrossFit Headquarters. CEO and Founder Greg Glassman has stepped down from his role after making comments on his personal Twitter account that were insensitive, disrespectful, and unprofessional.
At CFQB, we have always believed in and taught the CrossFit methodology of constantly varied, functional movements, performed at high intensity to increase work capacity across broad time and modal domains.
Not only is this methodology the most effective means of improving our fitness with respect to exercise performance in areas such as strength, power, coordination, speed, stamina and many other domains, it is also of massive benefit in creating a buffer between sickness and wellness. The more fit and healthy we are, the less likely we are to get sick, injured, or linger in these states for long periods of time.
We have seen the positive impact the CrossFit methodology has had on hundreds of people over the last 6 years at our facility, and we have also seen what it has done for thousands of affiliates and their members globally.
Also important to note is the culture and community we have developed at CFQB as a result of being a part of the CrossFit Affiliate model. We have always been encouraged and supported to be a fully inclusive facility where athletes of any ability, age, race, and gender can come together and improve their fitness. We still proudly hold this belief, as do the thousands of affiliates still branded as CrossFit and those who have de-affiliated.
The words of one man do not define us. Nor do the actions or inactions of CrossFit Headquarters. Our arrangement with CFHQ allows us to use the name CrossFit in our branding and marketing – that is the extent of it. Seeing the damage that has been done to the world and greater CrossFit community by Glassman's remarks and the events that followed has been so very disheartening.
This is a brand we believe in. These are people we were proud to follow. It's been a hard few weeks for us here at CFQB.
We have recently changed our social media handle to Community Fitness Qualicum Beach – this is a change many affiliates have made in an effort to keep some semblance of the brand THEY have built within their communities. We have always been and will remain CFQB.
We do not know what will happen in the future. CF Headquarters are in the process of making some big changes, and we are grateful. It is clear to many of us at this time in history that things must change in order for the world to heal and prosper. We look forward to learning more about how CFHQ will be making amends, changing their policies and practices, and improving their brand moving forward. This is a company that has done so much good in the fitness industry and we cannot ignore that.
For now, we are reflecting, listening, talking, learning and doing what we can to bounce back from not only this challenging blow to the very heart of our business, but also from months of closure due to COVID-19 and the current restrictions that prevent us from fully opening up to the public.
Community Fitness Qualicum Beach is a place where everyone is not only welcome, but celebrated and respected. We come together to be better and to improve our fitness so we can live our best lives. We push ourselves under the watchful eye of trained professionals, and connect with friends and community members who hold us accountable and inspire us to reach for our goals. Our diversity is our strength and our positivity and determination will allow us to move past any obstacle life throws at us.
Thank you to our current members, who have joined us or stayed with us in this challenging time, standing by CFQB and all we strive to do for the Oceanside community. Our gratitude is endless.
Thank you to past members, who filled our facility with laughter, sweat, and high fives. We hope you are continuing your fitness journey wherever you are, and please know our doors are always open to you.
Thank you to anyone who has ever reached out, come in for a consult, shared our programs with their children and other family members, or dropped in at CFQB. Your presence reinforced our mission to serve and we hope our paths cross again one day.
In times such as these, we strive to be resilient: to face the challenges life presents, get back up when we've been knocked down, and lean into our true values and mission as a business. Growth and change are our allies, as uncomfortable as they may seem sometimes.
We hope you too are living your values and approaching each day with a resilient spirit.
With you in sweat,
Lucas & Maggie Bugg
Co-owners of CFQB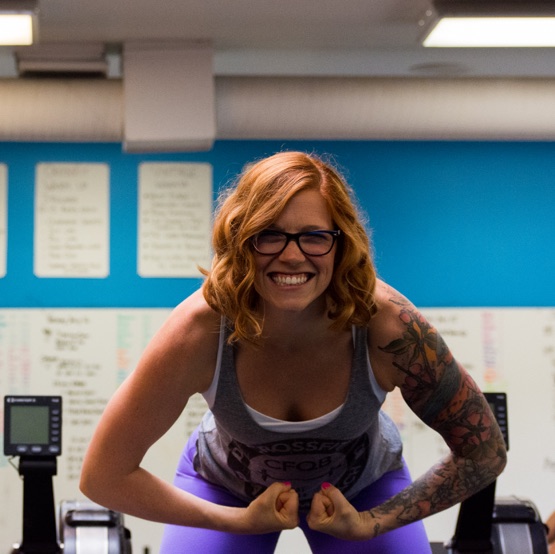 Maggie Bugg is Co-owner of CrossFit Qualicum Beach on Canada's rugged and beautiful West Coast and is a massive Star Wars fan. With her Undergraduate Degree in Education, Maggie oversees the Kindergarten to Grade 12 programs at her affiliate and is the Head Trainer for the Teens Program. She is also the General Manager of the gym, focusing on cultivating a welcoming, safe, and results-driven environment for both Staff and Members. When not at the gym, you can find her nose in a book or her toes in ballet slippers.