Training Delivered to Your Doorstep
Are you nervous to head back to/join a new gym due to the current COVID-19 pandemic? We've got you covered. Read on for a list of programs & services we are currently offering to help keep you fit and healthy!
On-site or Virtual Personal Training
Allow us to send one of our highly skilled and ever eager Personal Trainers your way. If you don't want ANY face-to-face interactions, we can meet you on Zoom for your sessions. If you have a space in your home, garage, or yard that you like to workout in, we can meet you there in-person to offer you 1-1 training. If we are on-site, you can rest assured we will be taking all necessary precautions to keep you safe through distancing, sanitizing, and top-notch coaching!
Customized Programming
Have a space to workout at home and just need someone to design you a program to suit your equipment and goals? Contact us to find out more about Customized Programming. We have a number of Trainers who can provide you with training sessions at your desired frequency and taking into consideration any and all physical limitations you may have as well as the availability of exercise equipment. First step is to meet (virtually or in-person) to discuss your goals!
Home Workout of the Day Program (HWOD)
We are temporarily offering HWODs delivered to your inbox Monday to Friday to help folks keep fit while they are stuck at home and unable to return to the gym. Perhaps it's financial, or maybe a child care issue, or perhaps you just aren't comfortable yet to workout with a group of people – whatever the reason, you might love our HWOD Program! The email comes with a workout, a number of options for how to modify or scale the workout, a warm up, and links to video demonstrations.
Home Gym Consultation
Has all this time at home inspired you to build or add to your home gym? We can help you get your space set up by consulting on and assisting with the purchase and installation of equipment, creating a realistic budget for the changes you want to make, and determining the best equipment to suit your space and your goals. Give us a call with your amazing ideas and let us help you bring that space to life!
Hybrid Home & In-Gym Training
If you are already coming into the gym to train in a POD, Bootcamp, 1-1 with a Trainer, or for any other services we offer and you would like to stack one of the above services on with your current program, let us know! Perhaps you want to work 1-1 with a Trainer at the gym 2-days/week, but you want to train at home with Customized Programming 3-days/week. There are so many ways you can build the perfect plan for YOU. Get creative!
Don't let the current restrictions limit your ability to improve your fitness. There has never been a more important time to zero in on your health, wellness, and fitness.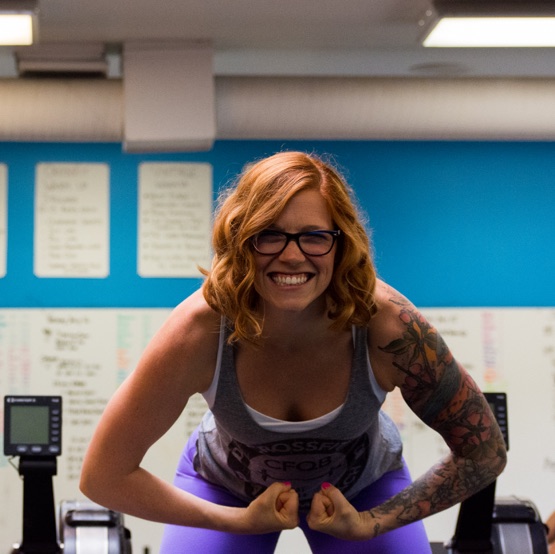 Maggie Bugg is Co-owner of CrossFit Qualicum Beach on Canada's rugged and beautiful West Coast and is a massive Star Wars fan. With her Undergraduate Degree in Education, Maggie oversees the Kindergarten to Grade 12 programs at her affiliate and is the Head Trainer for the Teens Program. She is also the General Manager of the gym, focusing on cultivating a welcoming, safe, and results-driven environment for both Staff and Members. When not at the gym, you can find her nose in a book or her toes in ballet slippers.