The CrossFit Open 2021
Why do we compete? The CrossFit Open 2021 is here to remind us of the value in effort, persistence, and mindset.
What is The CrossFit Open 2021?
The CrossFit Open is an international, online competition that encourages CrossFitters from all over the world to test their fitness and push their limits. In 2021, it will consist of one workout/week over three weeks beginning March 11.
For some, this online competition is the first step on their journey to qualifying for The CrossFit Games (the annual, global competition that crowns the Fittest Man, Woman, Teen, Masters, and Team athletes in the world).
For most, it's an annual opportunity to witness and test their growth and capacity as an athlete.
Most days when we hit the gym, we train to be more resilient, flexible, stronger, and less prone to injury. During the CrossFit Open, we have a chance to TEST our fitness. In these three workouts, we push a little harder, squeeze out one more rep, and empty our tank. And we do it all to celebrate our fitness!
We lie on the floor in a heaving, sweaty mess, overcome with pride, satisfaction, surprise, and gratitude.
This is what the CrossFit Open is all about.
This year, for the first time ever, there are multiple options for approaching the three workouts that allow you to compete from home, in a gym, with a full-equipment set up, minimal equipment, and even no equipment at all! There is also an Rx division, Scaled, Teens, Masters, and Foundations that's suitable for beginners.
This is the most accessible the CrossFit Open as ever been – teens, masters, adaptive, beginners, advanced: everyone can participate in this event!
Our gym will have each of the three workouts available to complete on Fridays between March 11 and March 26. Information on how to register through CrossFit is listed below.
Why do I need to test my fitness?
Check out our post on how and why we measure fitness.
Imagine spending a whole year working on a speech, performance, or presentation and then NEVER actually DOING it!
That's what training everyday and not testing is.
These opportunities to test our fitness don't have to involve competing with others, but they will inherently have us competing with our past selves. Competition can be given a bad rap, but if we reframe our thinking around it, we can see the value in this great form of expression and performance.
Competing is for Everyone!
Ever found yourself cleaning up after dinner as fast as possible to squeeze in an extra episode of your favourite show before bed?
Have you used a tracking system to keep record of your workouts, water intake, food consumption, work to-dos?
"Race you to the big tree?"
Taken a stab at something more than once to see if you could improve your time, quality, or precision?
These are all examples of competing with the clock, your past self, others, or with your own daily behaviours. Sure competing can be going head to head against someone else in a test of fitness, but it has other subtle ways of creeping into our lives too.
Competition allows us to express our full potential, it lights a fire in our bellies and asks us to shed our limiting beliefs.
Competing and seeing improvements can increase our feelings of self-worth and provide us with meaningful moments in our lives. Falling short in competition gives us invaluable information as to where we can improve, and is one of the best teachers we will ever have.
How do I sign up?
Follow this link to register and read more about The CrossFit Open 2021.
Still not sure if it's for you? Reach out to your Trainer and ask them about their experiences with the CrossFit Open, share your concerns, and determine if this is the year you will show up and compete for YOU!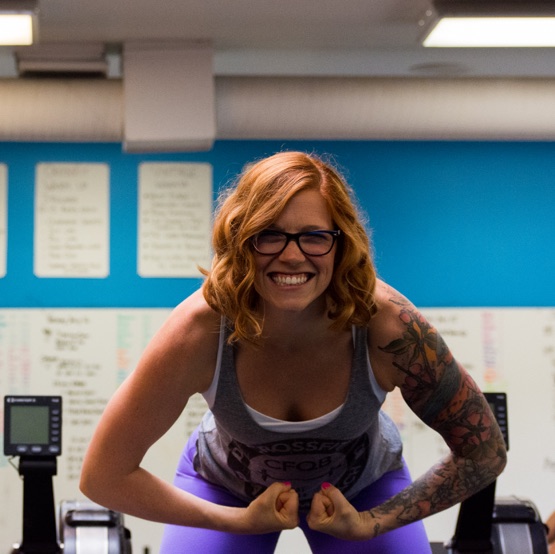 Maggie Bugg is Co-owner of CrossFit Qualicum Beach on Canada's rugged and beautiful West Coast and is a massive Star Wars fan. With her Undergraduate Degree in Education, Maggie oversees the Kindergarten to Grade 12 programs at her affiliate and is the Head Trainer for the Teens Program. She is also the General Manager of the gym, focusing on cultivating a welcoming, safe, and results-driven environment for both Staff and Members. When not at the gym, you can find her nose in a book or her toes in ballet slippers.