Fitness Challenge in Qualicum Beach
Trying a new fitness challenge can be intimidating. Because there are so many "what ifs" that go along with exploring the unknown, we wanted to answer some of your questions about our New Year, New You Challenge, coming January 2019!
Program Details
What's the program schedule?
From January 7 – February 15th, 2019, classes will run three times a week at 530pm – Monday, Wednesday and Friday. For best results, come all three days for the full six weeks. Classes will build on each other and consistency is vital to success in any fitness or nutrition program. If you have to miss a class, that's okay, but make sure you are there for the next session so you don't lose momentum.
How long are the workouts?
The classes are 1hr in length, but that includes a dynamic warm-up, teaching, practicing/reviewing movements, specific warm-ups related to the workout, the workout itself, stretching & mobilizations to release sore muscles, as well as frequent talks on nutrition-related topics. The workouts themselves will vary in length but are not likely to exceed 20 minutes.
How much does it cost?
The price of the 6-week Fitness Challenge is $199 plus tax. Included in this price are 18 fitness classes, pre & post program body composition measurements, nutrition plan and guide, access to a private FB group for support and accountability, and a CFQB t-shirt or tank!
Who is leading this program?
You will be trained by the Co-owners of CrossFit Qualicum Beach, Lucas & Maggie Bugg! This dynamic duo will ensure you feel welcome, safe, happy and healthy as you learn more about fitness and nutrition in this program. Also, you may also get lucky and have a few guest trainers jump in on a class! Check out our About Us page to learn more about our training team.
Class Environment
Will I be the only one there who doesn't know what to do?
Nope! This is a beginner-focused fitness challenge. We are inviting anyone who is new to fitness or new to CrossFit to join us for the program. We will start at the beginning and continue at a modest pace, allowing for individual progress and pacing.
What kinds of things will we be doing in the classes?
We will focus mainly on functional movements like squatting, pushing and pulling using your own body weight and free weights like dumbbells, kettlebells and medicine balls. Using a variety of resistance exercises, we will strengthen your muscles and safeguard your body from injury. Lastly, our mobilizations before and after the workout will increase your range of motion through movement and help alleviate tight or sore muscles.
What have you got to lose?
There's no better time than the present to refocus on your goals and hone in on creating a healthy lifestyle through fitness and nutrition.
Come and join us. Get the results you've been searching for and say hello to the New You this January…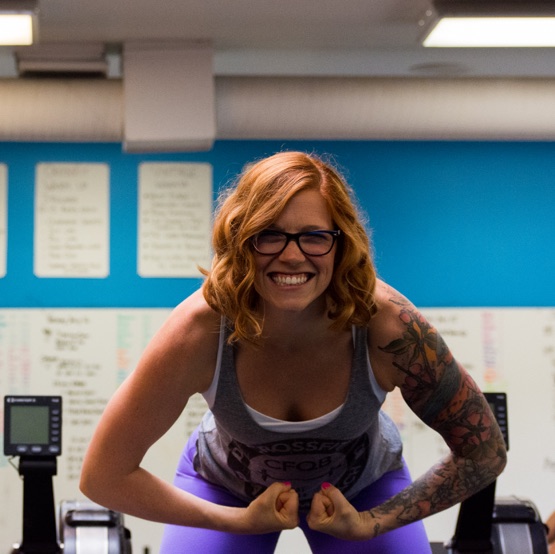 Maggie Bugg is Co-owner of CrossFit Qualicum Beach on Canada's rugged and beautiful West Coast and is a massive Star Wars fan. With her Undergraduate Degree in Education, Maggie oversees the Kindergarten to Grade 12 programs at her affiliate and is the Head Trainer for the Teens Program. She is also the General Manager of the gym, focusing on cultivating a welcoming, safe, and results-driven environment for both Staff and Members. When not at the gym, you can find her nose in a book or her toes in ballet slippers.