Custom Programming with Chris Schaalo
COVID-19 changed how we access fitness. With gyms closed all over the world, many took to their living rooms and backyards to create their own "gym". While we believe training at home without supervision, coaching, and thoughtful programming comes with a lot of risks, it became the best we could do in these unprecedented times. A need began to surface more strongly to provide interested athletes with Custom Programming.
At CFQB, we continued to provide coach-led classes on Zoom but also provided access to our high quality programming, modified so that workouts could be done with little to no equipment. During this time of change, we also began offering Custom Programming for individuals who were wanting something a little different than the mainstream workouts (click here to read more about CFQB's Custom Programming and home-based training options!).
This change to the way we offer programs and services led us to Chris.
CFQB Affiliate Owners Lucas & Maggie Bugg have known Chris Schaalo for a number of years – training at CF North Vancouver with him, taking CF Courses together, and connecting over the sport of CrossFit that we all so love. One of our CFQB Trainers, Terry Peters, has also worked with Chris for many years and recently became a Custom Programming client of his. Under Chris' guidance and program, Terry went on to win Gold for his age group at the National level in 2019 in Powerlifting. Chris' adventures in fitness have led him to become quite an expert in providing Custom Programming for certain individuals.
We are pleased to announce that Chris' Custom Programming services can be accessed through us at CFQB!
Want to learn more about Chris, who the ideal candidate for his services is, and a little about the process of working with him? Read on for a brief interview.
Maggie: What is your fitness background as an athlete as well as a Trainer?
Chris: Back in grade school, I played any team sport that I could get my hands on! In my 20s, I got pretty competitive with football and rugby, playing football for UBC while I was working on my degree in Kinesiology. It was during that time in 2007 when I started training CrossFit at 22 years old. I continued to use CrossFit as training for my sport until late 2008 when I started coaching. That was my part-time job while I was working on my degree.
I competed at the CrossFit Regionals and made it to the CrossFit Games on a team in 2010 with Taranis Athletics, based out of Victoria, BC. From 2011-2014 my focus was on coaching individuals and teams as they prepared to compete in the CrossFit Games.
During this time, I started competing and coaching in Weightlifting as well. I went to Regionals again in 2015 on a team with CrossFit North Vancouver and coached Regionals teams in 2016 and 2018 while continuing to compete and coach Weightlifting as well.
In 2013-14, I interned on the CF Weightlifting Seminar Staff. In addition to being a CrossFit Level 2 Trainer, I graduated with a Bachelor of Kinesiology from the University of British Columbia. I attended and completed courses such as CrossFit Weightlifting, CrossFit Powerlifting, CrossFit Kids, and I am a NCCP Trained Weightlifting Club Coach.
Creating Custom Programming for individuals has been a part of what I do since I started training teams and individuals. My focus was on injury, rehabilitation, and movement fixes. I worked closely with a physiotherapist in North Vancouver assisting athletes who were training in their home gyms to customize their training to help them succeed, staying injury free.
In 2019, I started putting more focus into helping athletes with their Custom Programming and it's become a large part of what I do for athletes in addition to currently training a number of CrossFit classes at Taranis Athletics and working with my roster of Personal Training clients. 
Maggie: What are some of the reasons why an athlete might benefit from Custom Programming? 
Chris: If they are consistently dealing with "nagging" pain, there can be a lot of strength and mobility issues at play. Addressing these would be a staple of their individual program.
If there is something that they feel they just can't improve at i.e. a particular movement or a range of motion, they could really benefit from a specific, assigned program. 
And lastly, if someone has a very specific goal they want to accomplish that a typical general physical fitness program would help with, but would be missing components to assist in preparation, following an individual program would be beneficial. 
Maggie: What kinds of athletes do you specialize in? 
Chris: My speciality lies more in the first two of those people mentioned above – those with pain or areas of improvement. I particularly enjoy helping people with movements that bother them or recurring pain they can't seem to shake. 
Maggie: What is the process for someone wishing to work with you?
Chris: I can lay it out in a 5-step process. Each of the following steps are all completed virtually using the Zoom platform, allowing the assessments and meetings to all be hosted virtually.
Step One: Initial Consultation – determining what you're looking for and if we are a good fit to work together
Step Two: Flexibility/Mobility Assessment – taking a look at range of motion, pain or discomfort etc.
Step Three: Strength Assessment – this is specifically relative to what the individual is seeking help with 
Step Four: Follow-up Conversation – discussing the why behind the work that will be assigned based on the results of the above assessments
Step Five: Custom Programming is created and delivered – via the True Coach App
Maggie: What is the True Coach App?
Chris: The True Coach App is software that integrates the delivery of the program along with video accessibility (movement demonstrations) as well as a communication functionality. This means I can communicate back and fourth within the app with my clients in the same space where their programming is kept. It's a free app that you will be invited by me to access when your program is ready. 
Maggie: What does a typical week of programming look like?
Chris: In general, it would be anywhere from 2-5 days/week of warm-ups and strength/skill work that are put together based on what your assessment showed needs improvement. Each of those days will typically take 20-40mins to complete depending on the person and each specific session. 
Maggie: Do I need to have a full home gym to use your services?
Chris: No! Having said that, you must be willing to get creative and think outside the box with sourcing out tools to use depending on what you have been assigned to work on. I can provide some guidance on this too.
Maggie: What do you love most about what you do?
Chris: There is something particularly rewarding and energizing about seeing a person's outlook and commentary towards whatever problem they are working on change over time. 
Think you and Chris would be a good fit? Contact us for information!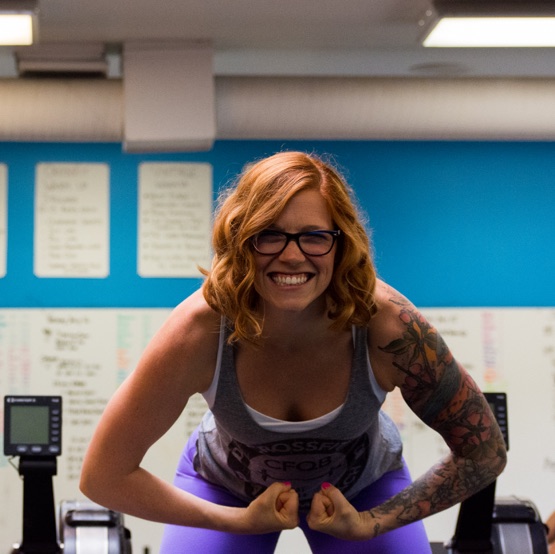 Maggie Bugg is Co-owner of CrossFit Qualicum Beach on Canada's rugged and beautiful West Coast and is a massive Star Wars fan. With her Undergraduate Degree in Education, Maggie oversees the Kindergarten to Grade 12 programs at her affiliate and is the Head Trainer for the Teens Program. She is also the General Manager of the gym, focusing on cultivating a welcoming, safe, and results-driven environment for both Staff and Members. When not at the gym, you can find her nose in a book or her toes in ballet slippers.