COVID-19 Health & Safety Procedures: Phase 1
Due to the COVID-19 Pandemic, our business' physical location was temporarily closed. We have since been allowed to re-open under specific guidelines through VIHA and Work Safe BC. Please read on for a look at our COVID-19 Health & Safety Procedures.
At present, we are following the recommendations from health officials and monitoring the situation. We have decided to re-open with a Phase-based approach. This way, we are able to slowly increase our offerings, ensuring the safety of our staff and members, while also being compliant with local regulations.
The first Phase of our re-opening plan is for Personal or Small Group Training ONLY.
At this time, you can only book in for the following services:
Personal Training (up to 3 people with 1 coach)
Nutrition Consultations
Nutrition Check-ins
New Member 30min Consultations
Existing Member Goal Check-ins
If you are coming into the facility for any of the above, here is what we ask of you and what you can expect during your time at CFQB:
Phase 1: Personal or Small Group Training

Do not come into the facility if you are feeling sick (i.e. no signs of fever, cough, sore throat, or difficulty breathing)

You will be asked upon arrival how you are feeling and if you have any cold or flu-like symptoms, you will be asked to leave.

Please ONLY ENTER through the FRONT DOOR (1st Ave.)

Wash your hands as soon as you arrive. Please use soap and water for at least 30 seconds. We also have hand sanitizer on site for use during your time at the gym.

For the duration of your time at the facility, please keep at least a 2m distance from your Trainer and anyone else using the facility.

Your Trainer will have  your station set up when you arrive and all your equipment will be sanitized and ready to use.

All equipment used will remain out until the end of your session. Then, the items will be returned to their original location and sanitized there.

Certain items WILL NOT BE USED AT ALL during your session including but not limited to: chalk buckets, climbing ropes, fans, and any other difficult to sanitize items.

Please exit through the BACK DOOR (parking lot).

Your Trainer will ensure all frequently touched surfaces are sanitized and our staff are monitoring their own health to ensure they do not come to work when sick.

We are excited to welcome you back to CFQB and thank you in advance for your cooperation with these safety measures.

Please check back with us for updates on future Phases of our re-opening plan. Stay safe and be kind!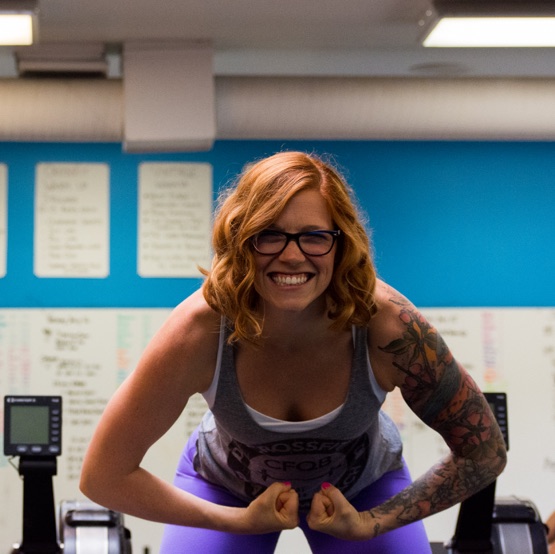 Maggie Bugg is Co-owner of CrossFit Qualicum Beach on Canada's rugged and beautiful West Coast and is a massive Star Wars fan. With her Undergraduate Degree in Education, Maggie oversees the Kindergarten to Grade 12 programs at her affiliate and is the Head Trainer for the Teens Program. She is also the General Manager of the gym, focusing on cultivating a welcoming, safe, and results-driven environment for both Staff and Members. When not at the gym, you can find her nose in a book or her toes in ballet slippers.